TEXTAR
Textar is an integrated assembly of roll guider and screw rolls having functions of web expansion, selvage opening and web guiding. It also can be used for high-speed running or hard conditions where water and chemicals are present.
TX-220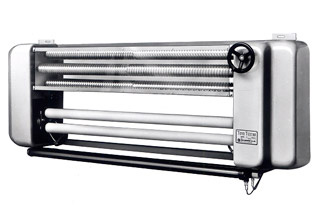 Technical Data
MODEL
TX-220
TX-320
TX-325
Applied to 
use case
Degree fabric is wet 
where the surrounding environment is good by 
tenter, the entrance to mangle
Of water, wet the dough 
is slightly more take place 
Discussant char exit
Chemical-laden water dough is 
wet to take the water 
where there is a lot slightly 
outlet scouring bleaching machine
Fabric width adaptation
600 ~ "L-300" mm (dimensions L = roll, up to 2,400 mm)
Line Speed
MAX.150M/min (by condition. Note)
Power
Model TXP-40 supplied from the controller
Scroll down for 
AC motor
4P 04.kW outline all 閉外 Ogiya
4P 04.kW outline all 閉外 Ogiya
Guide roll for 
DC motor
Model DMM-20, 200W, 1,800 rpm
Roll
Roll
3 φ89 × Lmm this outer diameter, SUS304 × material 
640rpm/60Hz rotational 
direction of rotation reverse, reverse, reverse
Appearance only part epoxy 
resin coating
SUS is a non-epoxy 
resin coating 
roll axis end SUS304
Bearing
Standard bearing units 
ball bearing-type shield
Bearing units with dust cover 
sealed ball-bearing contact
Guide roll
Roll
Φ75 × Lmm outer diameter, SUS304 × 1 this material 
φ75 × L mm outer diameter, this SUS304 Material Rubber × 1 volume 
3.5 ° (L = 2,400 mm) maximum angle 
lateral movement stroke 140mm MAX
Slide-based 
carrier FC 
role SUS304 shaft end
Bearing
Bearing unit
Bearing unit with cover
Detector
Model PCD-65, PCD-S50
SUS304 cover with 
bracket type material use S
Accessory function
· Emergency stop function and automatic recovery feature automatic center 
OFF of scrolling with the external terminal in conjunction with line input switch terminal
Paint
Melamine resin paint 
Munsell 10GY 6/2
Epoxy resin paint 
Munsell 10GY 6/2
Dimension
W × H × L = 850 × 410 × (L +850) mm
Mass
300kg (L = 1,800 mm) approx.